This feature is available to Knoema Professional subscribers.
One of the key advantages of Knoema dashboards is that they can be interactive, not static. Interactive means that the displayed information can be changed as a user interacts with a dashboard (for example, clicks or makes a choice in a drop-down list).
Let's see how it works on an example of the dashboard Protests in France: Clashing Social and Ecological Demands.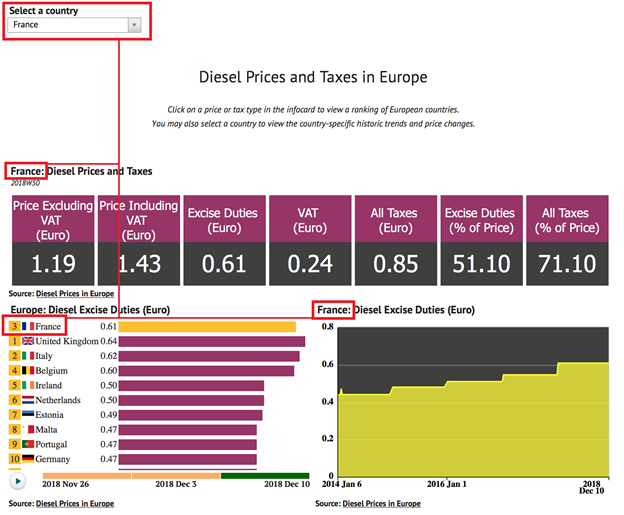 By selecting a country in the drop-down list at the top of the page, you can make this country to appear in the info card, chart, and as a base country in the ranking. At the same time, by clicking an indicator in the info card at the top, you make this indicator to appear in the ranking and the chart. So, instead of building separate charts for each country and indicator, you build only one chart, but allow a user to change the country and indicator on this chart.
This function is called parametrization. To set up parametrization in a dashboard, click Parametrize link under the dashboard title and follow these steps:
1) Click a gadget that you'd like to filter or make dependent on another gadget.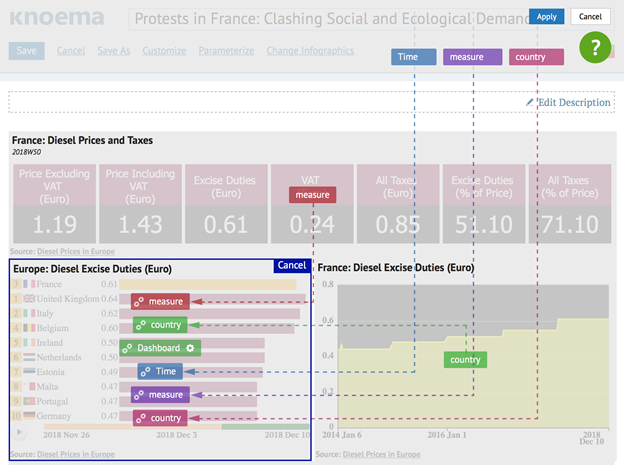 You can get a quick guide on how to set up parametrization by clicking a green question mark icon at the top right corner.
2) Select a parameter by which you want the gadget to be filtered or dependent on another gadget and a link. For example, you want to make ranking dependent on info card gadget by parameter "Measure", so, click "Measure" which is linked to the info card.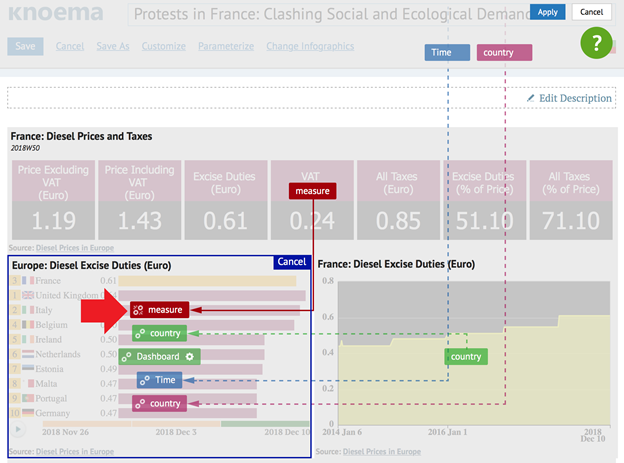 3) You may set up several links for one gadget. For example, you can make the same ranking filtered by country by clicking "Country" which is linked to the top of the page.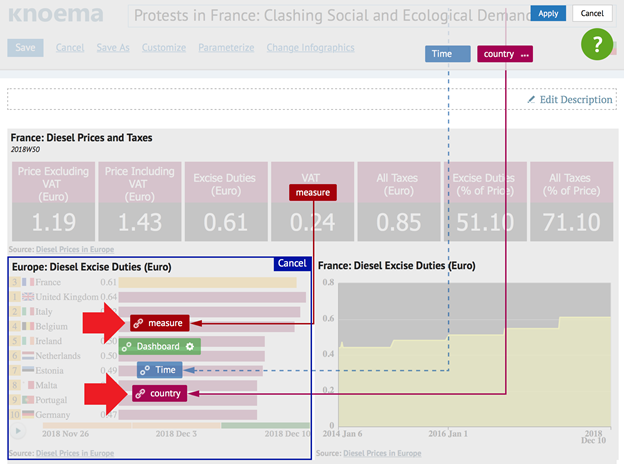 4) You may customize the filter at the top of the page by changing its title and restricting the selection. For example, you may want the drop-down list to be titled "Country" and to include only a subset of 5 countries.
5) You can even link two dashboards between each other. For example, you have a second dashboard which is filtered by country.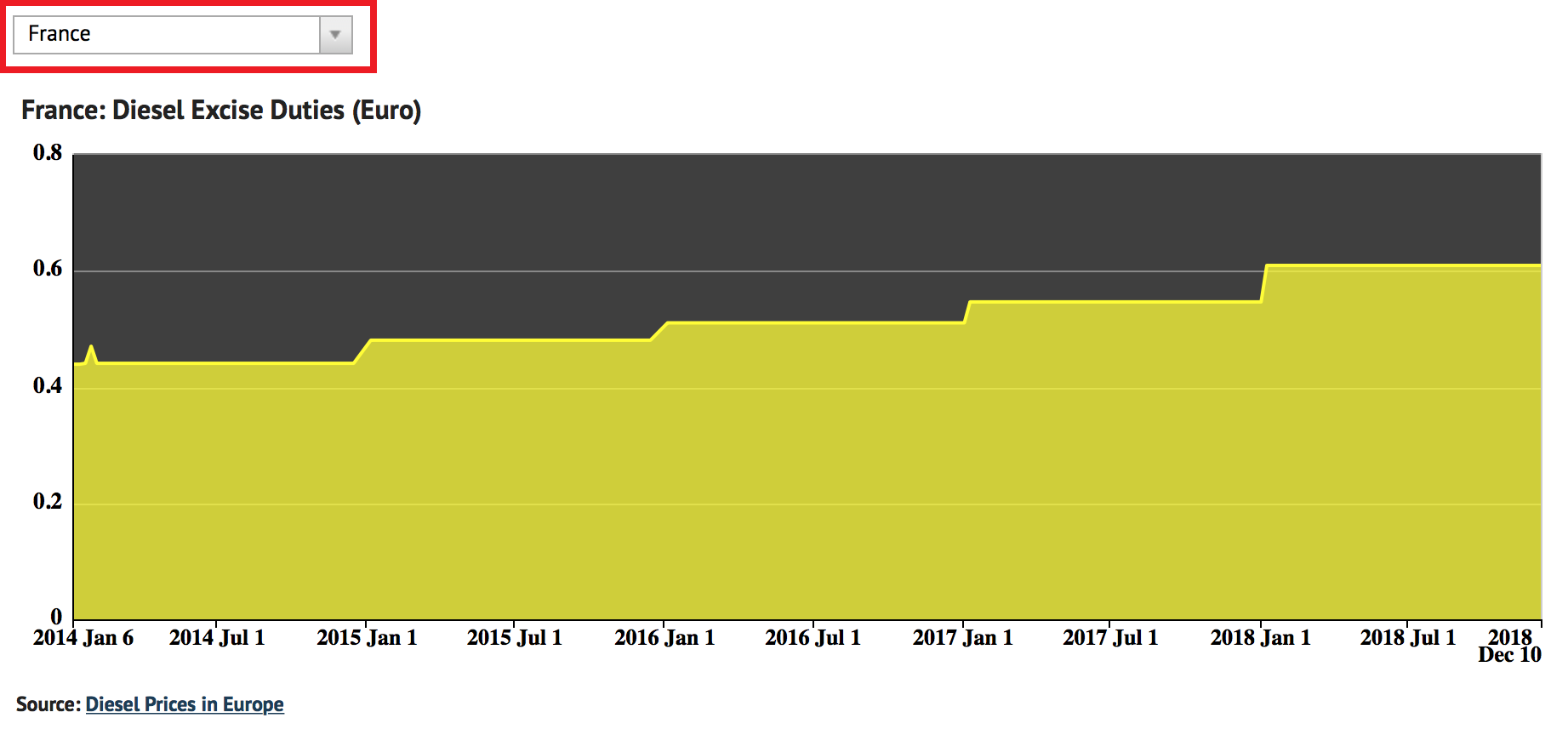 And you want that by clicking a particular country in the ranking on the first dashboard a user gets to the second dashboard with this country selected in the filter. In order to do that, in the first dashboard, you need to click "Dashboard" and paste the URL of the second dashboard.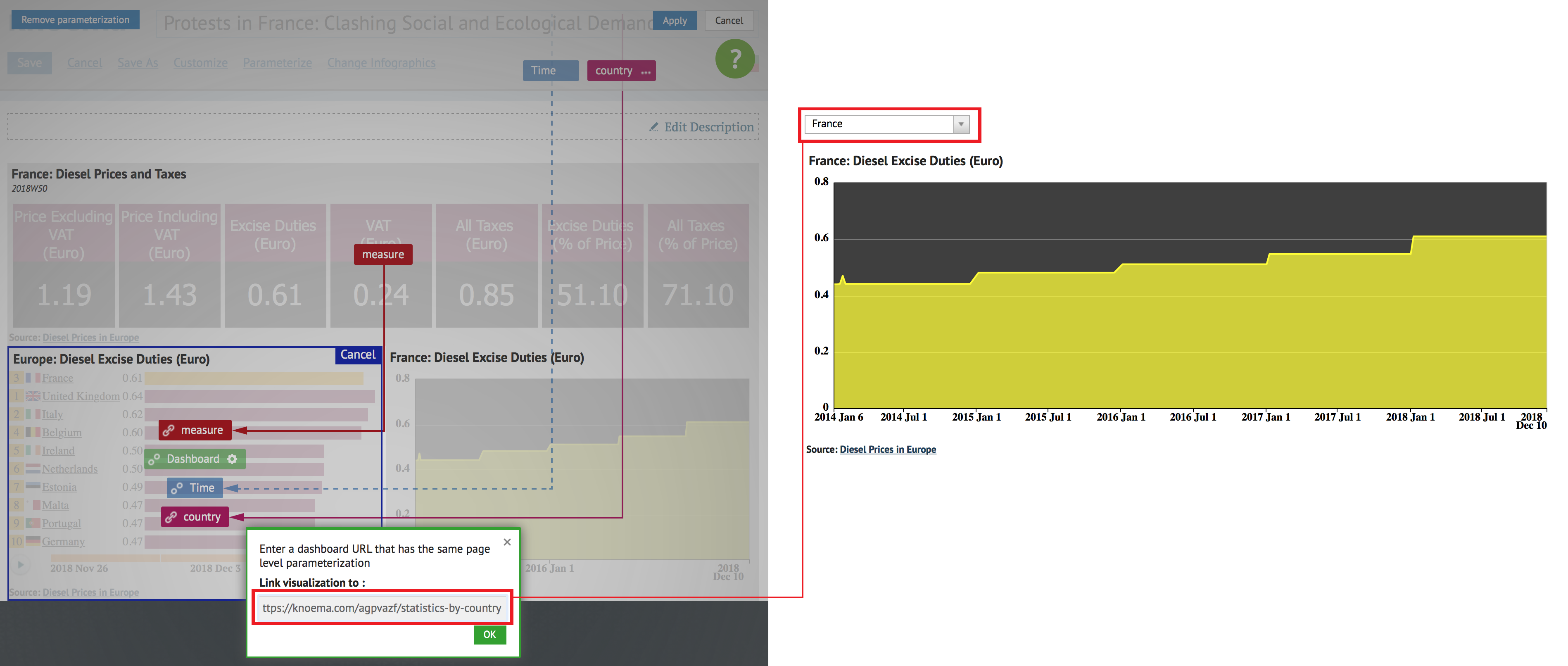 6) To remove all the links, you can click Remove parametrization button.
7) Click Apply to save the parametrization.
8) Now, your dashboard is interactive and you can generate new visualizations on the flight to focus on different countries and indicators.