Professional only, to upgrade click here.
Once you created and saved your dashboard, you can share it with others. By default, all new dashboards are private, meaning that they are available for viewing by only their owner (you). You can change the access level to your dashboard by:
Making it public to all.
Sharing it with particular registered users by specifying their emails.
Sharing it with anybody by link.
Transferring the ownership right to another registered user (owner of a dashboard is able to remove it and see history of changes).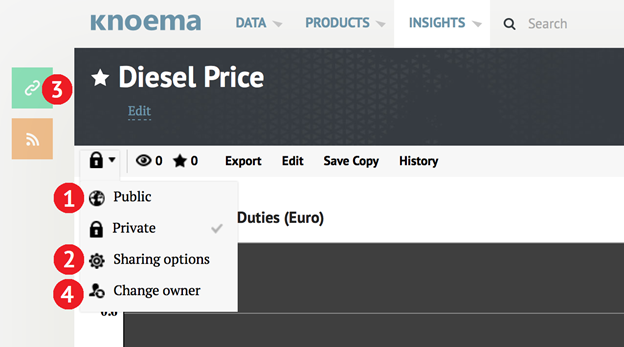 If you make the dataset public to all, it will become discoverable by other users via search or in Data Insights. If you want your dashboard to appear in the Data Insights under a particular topic, you need to add a tag to your dashboard by clicking Edit under the dashboard title.
Making the dashboard public to all is also necessary in case if you want to embed visualizations from the dashboards to your website or blog.
If you share a dashboard with registered users, you can control for the level of access:
Read means that only specific users will be able to view the dashboard
Edit means that specified users will be able to edit the dashboard
Full control means that specified users will be able to edit or share the dashboard.