Professional only, to upgrade click here.
To view details about a dataset, switch to "Details" tab on the right panel of the Dataset Viewer.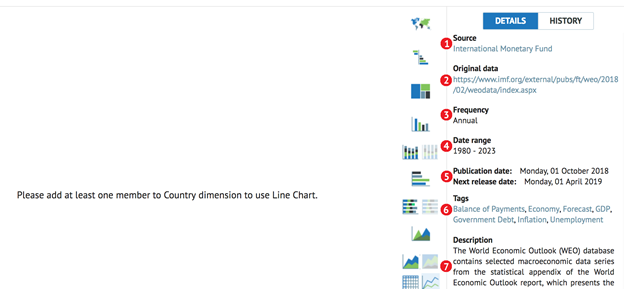 There are the following metadata fields, available for most of the datasets
Link to the website of the source where the data was collected.
Frequency of data which is available in a dataset. It can be annual, semi-annual, quarterly, monthly, weekly, or daily.
Time range for which data is available in a dataset.
Publication date and next release date. Publication date shows the date at which the original source of data released it. Next release date is the planned date of next publication by the source.
Tags showing which topics are covered in the dataset.
Description showing other important information about a dataset including its purpose, methodology, content and so on.
In addition to dataset-wide metadata shown in the "Details" tab, there might be metadata specific for dimension elements. It is accessible by clicking "i" square near a name of a dimension element.

If some information is not present in the "Details", you can refer to the website of original data source using "Original data" link, where you can find all needed details about a dataset.