Professional only, to upgrade click here.
Dataset Viewer has the following structure and controls: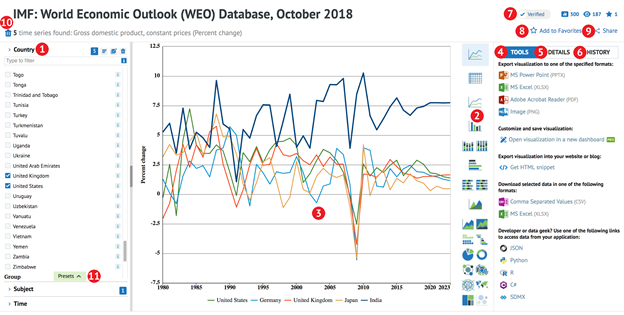 All datasets consist of dimensions (1). Most datasets offer Country, Indicator, and Time dimensions. Some other datasets have additional dimensions, like Gender, and Age.
By making a selection in dimensions and selecting a visualization tool (2) you identify what data to visualize and how. Once the selection is made, the visualization will appear in the plot area (3).
Once a visualization is build, you can select what to do with it using export and save options in the right panel (4). In the right panel, you can also explore details about a dataset (5), and view its historical versions (6).
Information about whether a dataset is verified by knoema data experts is available on the top right corner (7) where you can also see the number of dashboards built on the basis of this dataset, views count, and the number of users who added a dataset to their favorites.
Once a visualization is build, you can also add a visualization to your favorites (8) or share (9).
Information about the current selection is available under the title (10). You can use "bin" icon to clear the current selection across all dimensions.
You can use Presets (11) to create a custom group of countries so that not to select country-by-country each time.