There are several ways and options of highlighting data in chart editor:
Time-line area
Particular time-series
Range between time-series
1. Time-line area
You can find this option in appearance tab, first section "General" clicking on dropdown list under "Highlight". Platform has ready preset options and custom range. If your dataset contains time points that are later than today, they are supposed to be forecasted data, and you can select to color such area. Also you can use ready preset "US Recession Data" or create your custom conditions.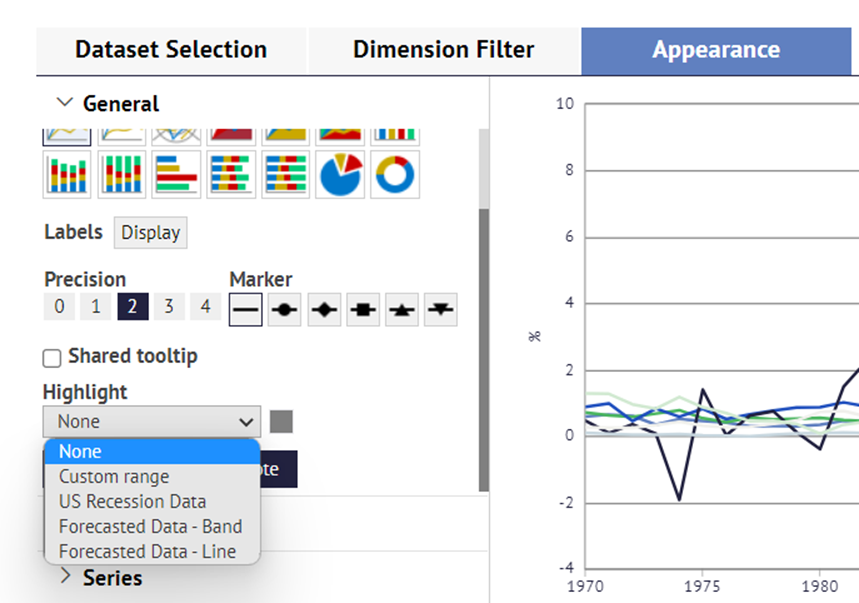 Only custom range requires filling in fields on some data. Info icon placed near the box can show tips with examples. You can set particular time points, ranges, unite them in any order. Once you put dates in the field, press "enter" button.

2. Particular time-series
In some cases when you want to underline particular time series you should go to appearance tab, "series" section. Here you can select series you need and change options for this one only. Options you can apply to – color, chart type for selected series and other options according to chart type. Thus if there is a line, you can set unique for chart line type, width, markers etc.

3. Range between time-series
Section "range" in Appearance tab allows you to highlight area between time series on a chart. Select two series and set a color. There is possible to create several ranges, just select in first field "new" and select further ranges. To save range after series selection click on "set range" button. To edit or delete created range select them in first field