We will use an English-French Enterprise system as our example.
Any dashboard can be created so that it will appear in French in the French user interface and English in the English user interface. The process will depend on whether the underlying dataset(s) is available in both languages. If not, you will need to manually translate more text—not just titles but indicator names as well—but can still follow the same process to create dashboards in two languages tied to the language of the user interface.
When a user creates a dashboard, the dashboard 'sticks' to the current language of the portal's user interface. For example, if the portal is switched to English and you create a dashboard, the application will think that the page is created in English and English will be the default language of the dashboard.
If you switch the user interface language while viewing such a dashboard—let's say you change the language from English to French—the application will recognize that the current language of the portal and the language of the dashboard do not match. The portal will tell you that the page was created in English (see EN symbol on the right side of the gray area).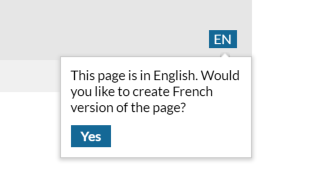 If you click the EN symbol, the system will suggest creating a French version of the page as a copy of English version of the same page (as in the image above).
If you click yes, the portal will create a copy of the English version of the page and link the new and initial version.
That copy will be switched automatically to Edit mode. Now you can translate headings, subheadings, and any other text, as well as change chart types.
These two copies of the same page are technically different pages so they do not have to be identical.
Save the French-language dashboard when finished.
Now, when you change the language of the portal's user interface, the portal will show you a language-specific version of the same dashboard.
If you want to later edit the French or English version of the dashboard, you will first need to change the user interface language of the portal to the corresponding language.