Contact your Knoema representative to learn about custom content roles that may be available on your Enterprise system.
You may assign all users an initial role upon registration to avoid you having to take the time to approve each user manually. Go to Admin > General and choose Default Permission from drop-down list ('None' means that portal's administrator will have to approve every user who registers):

Below is a summary of standard roles.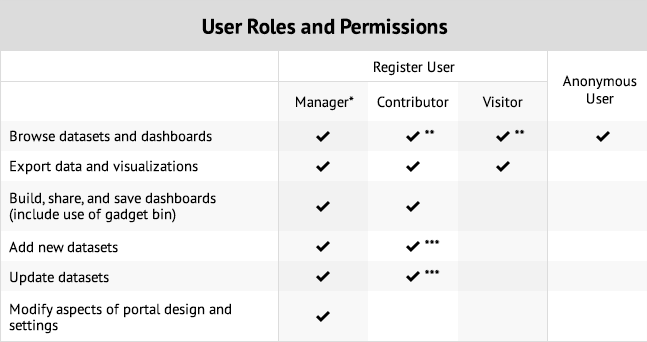 * Recommend reserving the Manager role for a portal. Also includes Knoema support staff.
** Includes private datasets and data-driven content explicitly shared with a visitor.
*** Contributors may share and update private datasets and those datasets to which another user has assigned them permissions. No additional permission is required to publicly share a dataset unless explicitly restricted from doing so in the security settings.