Your system's security starts at user registration. Must a user register to access the system?
If no, you can choose to make your portal available to public anonymous users and allow free registration. Visitors would be able to view public datasets and dashboards, for example. The option to make your portal public is available at Admin > Security, as pictured here:

You can, however, choose to require even free users to register to build, save, or export content, from Admin > General, as pictured here:

Regardless of whether your system is public or for private use only, you can restrict users from publishing data or dashboards for public viewing from Admin > Security:

The following table summarizes the actions permitted per role: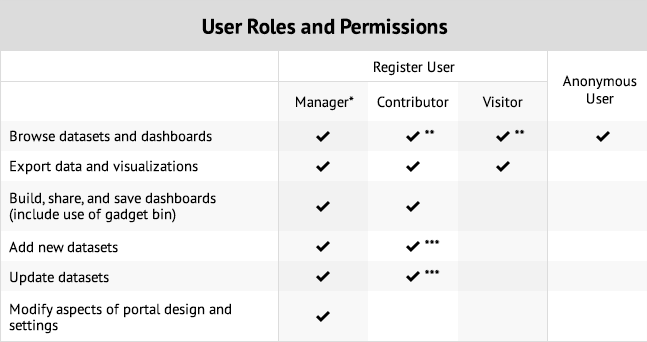 * Recommend reserving the Manager role for a portal. Also includes Knoema support staff.
** Includes private datasets and data-driven content explicitly shared with a visitor.
*** Contributors may share and update private datasets and those datasets to which another user has assigned them permissions. No additional permission is required to publicly share a dataset unless explicitly restricted from doing so in the security settings.